Why NOW is the Perfect Time to Buy a Home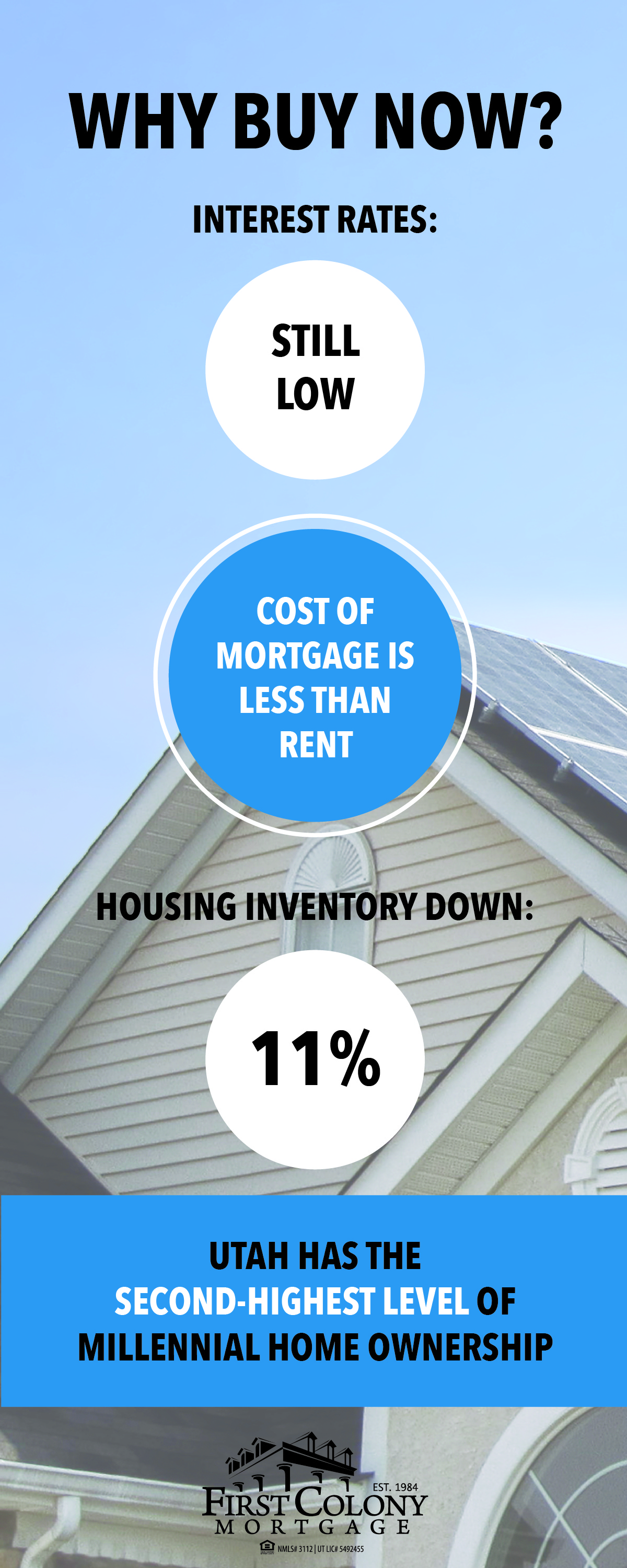 People often ask, "When is the best time to buy a home." That can be a loaded question that may have many variables. It is very cliche to say that, "Now is the time to buy," but actually, right now, that answer really is true.
You want to move, should you just rent for now?
No, not with current prices. The price of rent across the state is higher now than it has been in years and the rates continue to increase as more
and more people move to Utah. Right now you can possibly buy a home and pay less on a mortgage payment than you would to pay to rent that very same home. So for many young couples and others thinking about buying a home, don't wait, check out your options.
What is the current Utah housing market like?
The Utah housing market is hot, both for single family homes and multi-family units like townhomes. People are moving to our area from around Utah and out of state because of many new jobs being created, low cost of living, and great housing options. There are new homes being built in new up-and-coming areas, but the existing home inventory may be a little low because people love where they liv
e and not wanting to sell. If you find a new place in a community you like, jump at the chance before someone else does.
Are mortgage loan rates still good?
With the recent election, fed announcements and other factors in the market, rates have gone up slightly, but overall they still remain quite low making it a great time to take advantage of them and look into buying a home. As the economy rebounds and continues to improve, interest rates will inevitably go up. For example, assuming house prices stay the same… if rates go up 0.5%, the same house could cost you an extra $100 per month and tens of thousands more over the life of the loan.
With rates still quite low, would now be good to refinance?

Certainly! If you love your current home but wonder if you could refinance to a lower interest rate and save some money every month, now is the perfect time to consider that. Talk with a loan officer about your current mortgage and see if it makes sense for you to refinance your loan. Rates are low for now, so if there is an opportunity to refinance – do it or you may miss your window.
Talk to a Professional
If you're looking to buy a home, it's so important to sit down with a loan officer to discuss your loan options and go over your individual situation, whether it's your first home or you've purchased before. Together you can determine a price and loan amount that will fit your needs. The same is true when considering a refinance on your current home, talk with a loan officer to see if a refinance makes sense for you. But hurry as interest rates won't stay like this for long.